Creative Director, Multi-media Designer, Copywriter, PR

Case Study work
Navigating Brand Perception: Campaign Creation and Rebuilding Trust Case Stud
y
In this study, I assumed the role of a creative director, focusing on Pfizer's rebranding and advertising strategies following the challenges of the COVID-19 pandemic. My goal was to reshape public perception and rebuild trust through a campaign I titled 'Forward Together.' This involved creating materials like billboard posters and social media content to humanize Pfizer's efforts and emphasize its humanitarian impact. Additionally, I critiqued and proposed alternative approaches for a Pfizer commercial, aiming to enhance its communication and public engagement strategies. - Much of the content displayed is created by me.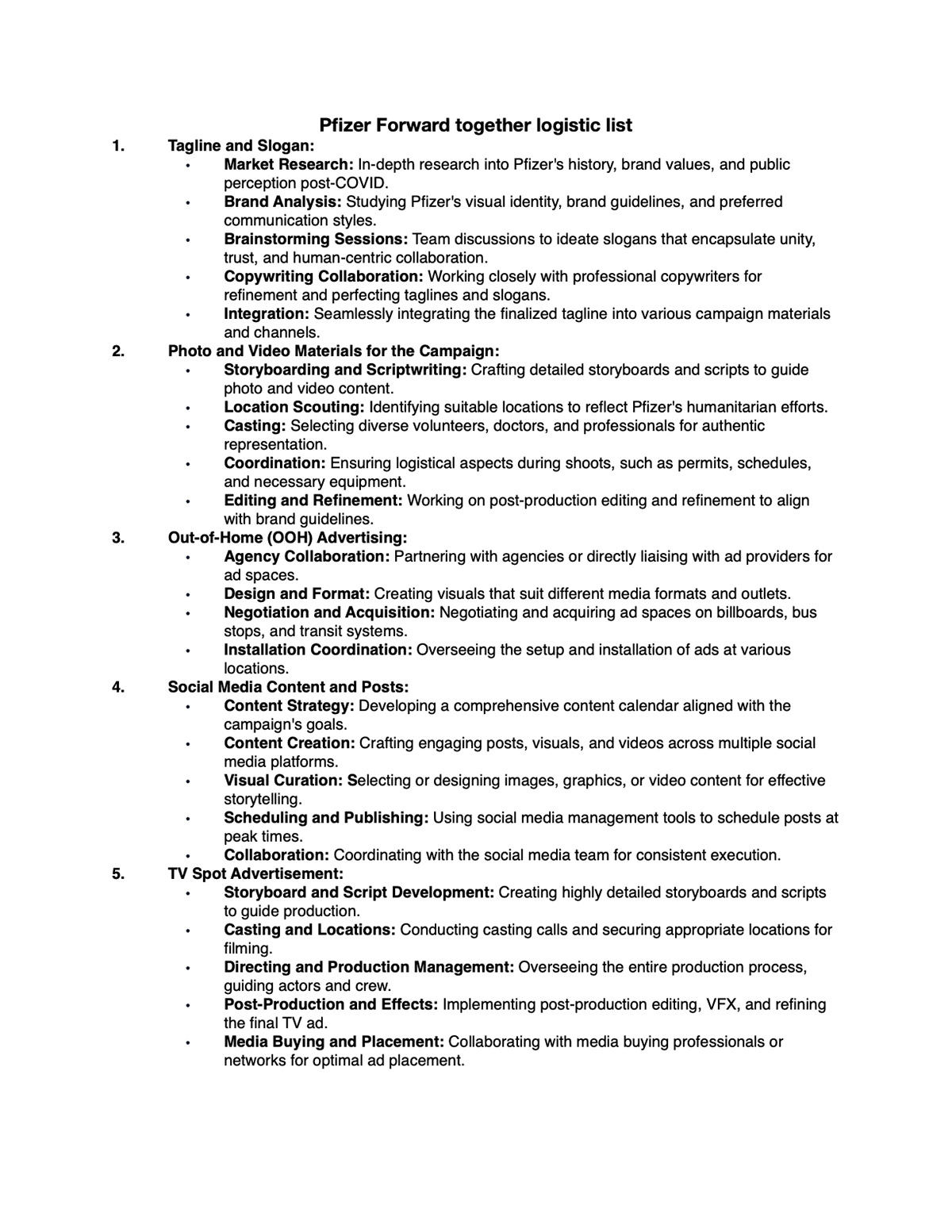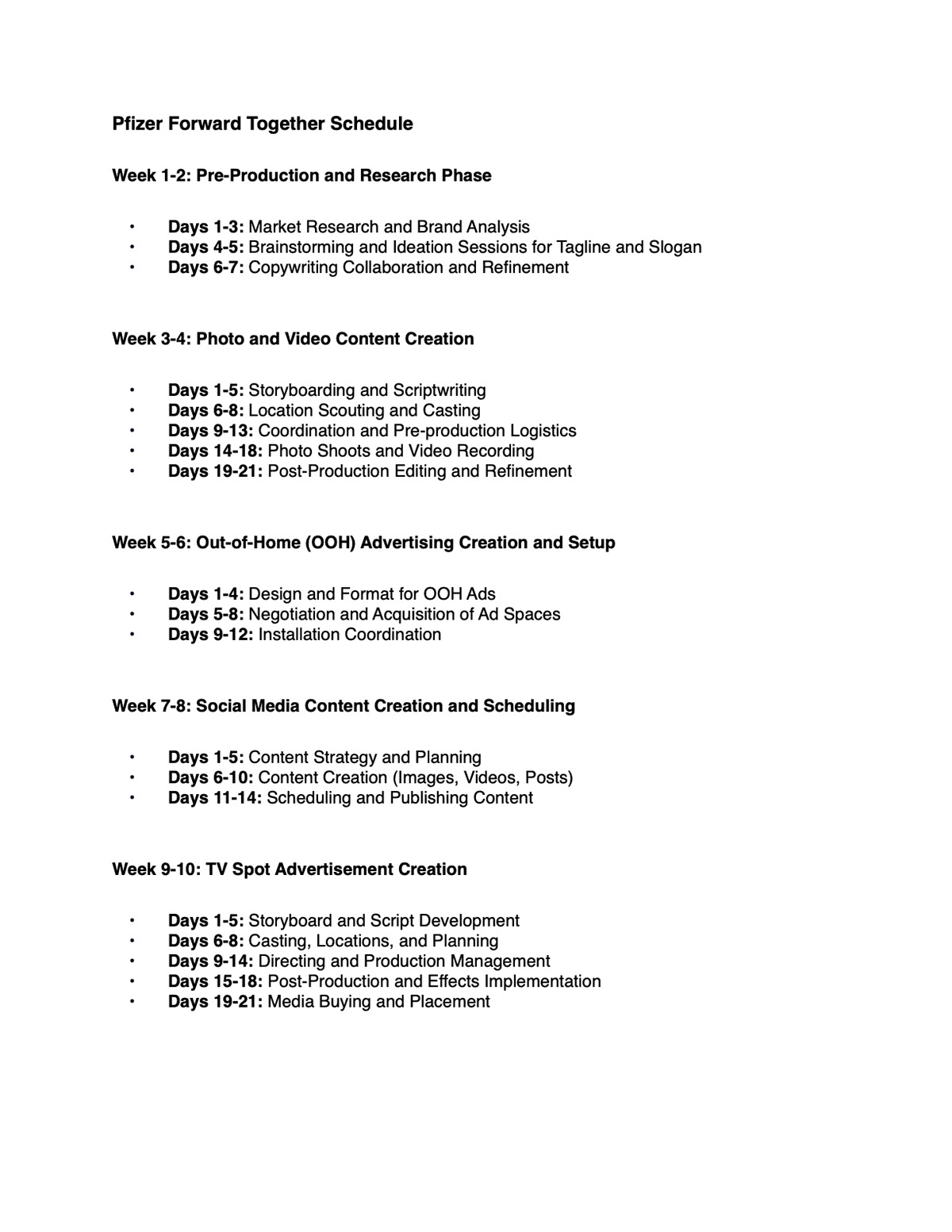 In conceptualizing the 'Forward Together' campaign and its corresponding tagline, the primary goal was to combat the damaged perception in Pfizer's brand, especially in the aftermath of the COVID-19 pandemic. The tagline 'Forward Together' was purposefully crafted to foster a sense of unity, community, and collaboration. While it was extremely important to maintain the new brand identity of Pfizer, it was also important to use imagery that would not characterize Pfizer as overly corporate.
This tagline aimed to humanize the brand by emphasizing unity and collective progress, aiming to establish an emotional bond with the audience. It sought to present Pfizer as more than just a pharmaceutical corporation, showcasing it as a collaborative partner in societal well-being.
The intent behind 'Forward Together' was to reshape perceptions, infusing a sense of reassurance and belief in Pfizer's commitment to collective advancement. Through various campaign materials like billboard posters and social media content, the tagline played a pivotal role in reinforcing trust, depicting Pfizer as a communal ally rather than solely a business entity.
All of these images are owned by FRANK RUSSO III
All of these images are owned by FRANK RUSSO III
The integration of images portraying Pfizer scientists, researchers, and volunteers serves a pivotal role in countering the perception of corporate interests overshadowing genuine efforts to advance public health. Amid prevalent skepticism about pharmaceutical corporations' intentions, the campaign aims to showcase the real faces behind Pfizer's groundbreaking work in vaccine development, humanitarian effort and more.
By depicting the diligent efforts of these individuals, the campaign aimed to humanize the extensive and impactful work undertaken to foster groundbreaking advancements in healthcare. The objective was to present a more realistic narrative, highlighting the collective dedication and commitment of these individuals toward advancing public health.
Furthermore, by shedding light on Pfizer's humanitarian initiatives, the campaign not only revealed the company's substantial impact on global health but also portrayed a collective, human-centric image. This approach sought to bridge the gap between the company and the community it serves, emphasizing the tangible contributions and the altruistic efforts driving significant health breakthroughs.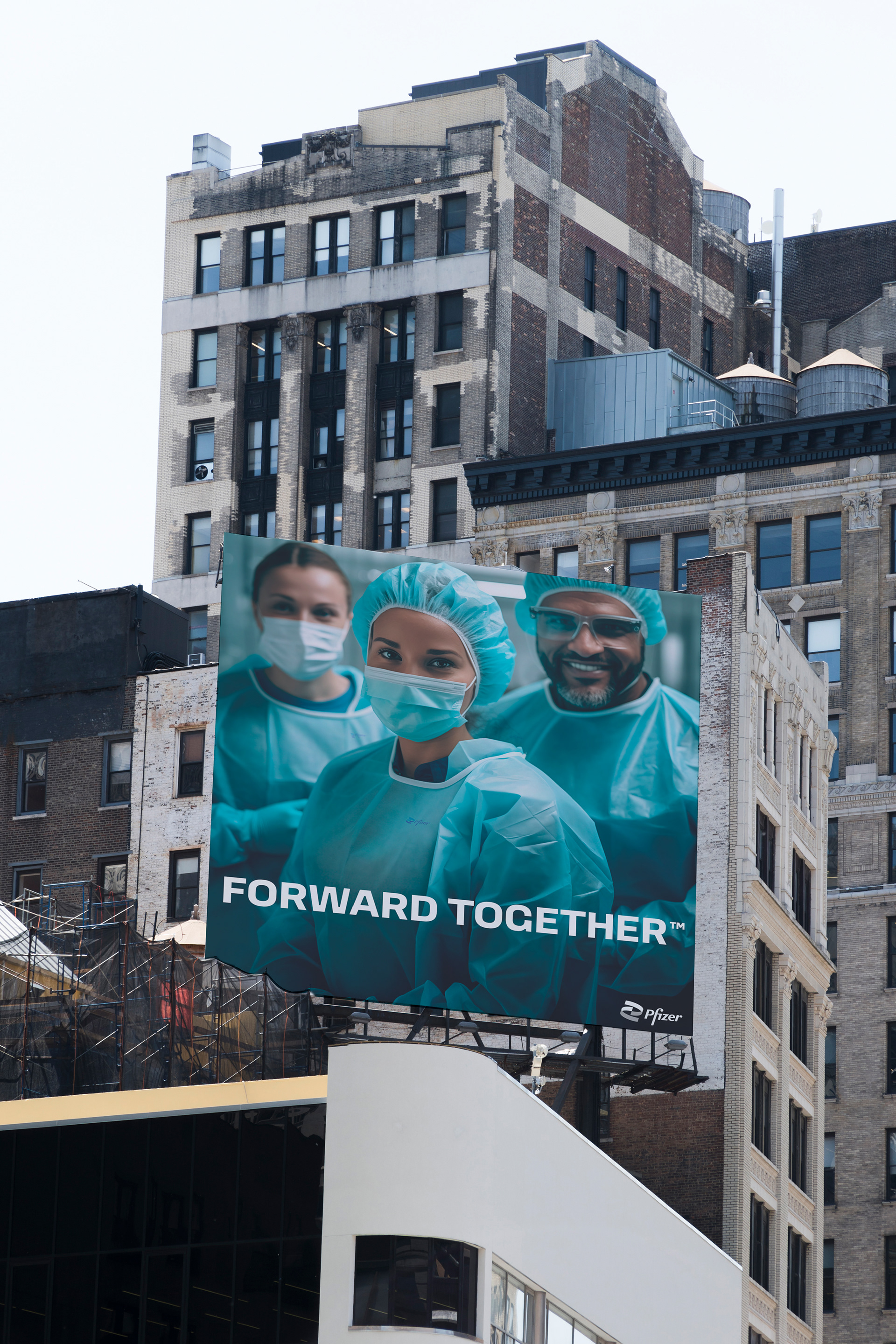 The strategic utilization of Out-of-Home (OOH) advertising stands as a pivotal element in fortifying Pfizer's campaign mission aimed at rebuilding trust, fostering community engagement, and propelling a collective push toward a healthier future. By deploying billboards, transit ads, and posters featuring the diligent efforts of volunteers and dedicated doctors, Pfizer's visual storytelling aligns seamlessly with the campaign slogan "Forward Together." Placed at key locations, these OOH materials not only serve as a testament to Pfizer's commitment to global health but also leverage the power of visual narratives to resonate with 
diverse communities. 
This strategic communication aligns with Pfizer's updated brand identity, introduced in 2021, underscoring a cohesive and updated visual language while conveying the ethos of unity and progress. Through these OOH mediums, the core tenets of the campaign are realized. Embracing a collective effort 
to drive global health advancements and inspire a sense of togetherness in addressing crucial healthcare challenges.
The social media arm of the campaign serves as a storytelling platform, presenting authentic documentary-style stories and interviews. Highlighting the contributions of volunteers, doctors, and the humanitarian work at Pfizer, these engaging stories offer an insightful look at the real people behind the scenes, aligning closely with the campaign's core goal of rebuilding trust and showcasing genuine efforts that drive Pfizer's advancements. These stories aim to humanize the brand, bridging the gap between perception and reality, and spotlight the significant impact of individual contributions to global health.
In addition to personal narratives, the campaign leverages social media to offer informative posts and quotes that aim to reshape perceptions positively. By disseminating important information, these posts aim to shift views about Pfizer, offering clarity and transparency about the company's humanitarian initiatives and research breakthroughs. Highlighting the selfless work of volunteers and Pfizer's efforts in global health, these posts encourage a more favorable perception, driving a shift from skepticism to understanding, trust, and appreciation.
TV Spot Critique and New Direction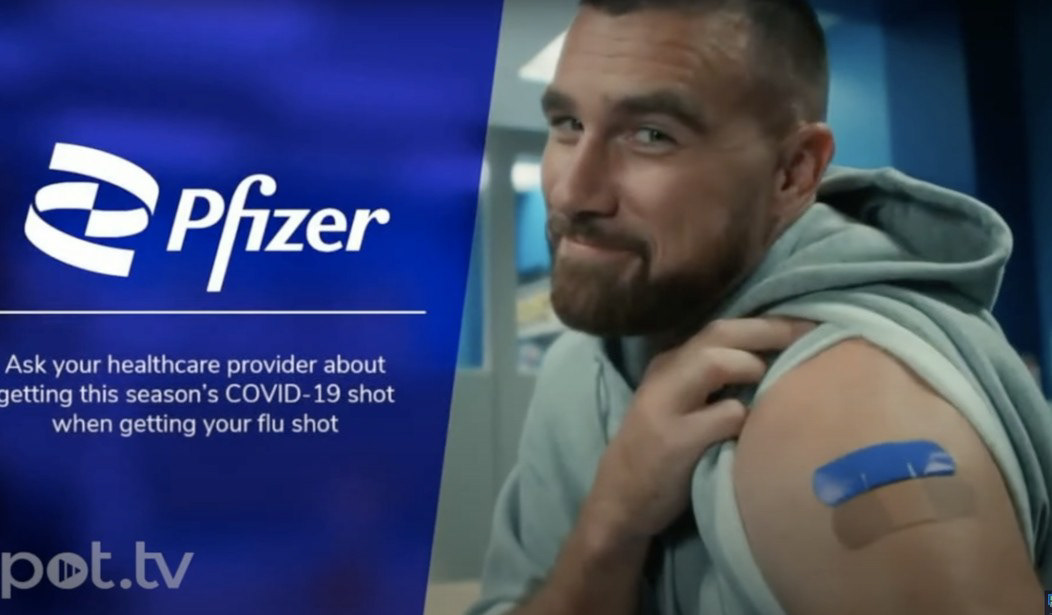 https://youtu.be/q-TiAh6gWgI?si=aOUY8BsEil4_F9SL
https://www.tiktok.com/@johnlegend/video/7202690167025552683
The "Got Booster?" ad campaign by Pfizer, modeled after the iconic "Got Milk?" slogan, aimed to promote booster shots in a witty and attention-grabbing way. However, upon closer analysis, this campaign, particularly the ad featuring John Legend, exhibits several flaws that could impede its effectiveness. One of the primary concerns lies in its attempt to mimic an outdated advertising strategy. By borrowing the "Got Milk?" concept, the ad may appear antiquated, potentially failing to resonate with a contemporary audience. Additionally, the utilization of renowned personalities, though often effective, seems misaligned in this instance. The ad's reliance on celebrity endorsement seems forced and out of touch, potentially leading to skepticism and disconnection from the message.
Furthermore, the ad's messaging inadvertently creates an air of persuasion, potentially backfiring among audiences, especially younger and middle-aged viewers who tend to discern insincere advertising tactics. John Legend's presence and the peculiar visuals, such as a piano covered in honey and bees, detract from the core message and fail to effectively communicate the importance of booster shots for health. Instead, it shifts the focus towards an abstract and disconnected imagery, potentially alienating viewers. The ad, in this context, appears more as a forced attempt by Pfizer to shape public opinion through celebrity influence, rather than genuinely addressing the significance of booster shots for health.
The "Got Booster?" ad, emulating the "Got Milk?" campaign, fails to emphasize the crucial message about booster shot importance. Instead, it relies heavily on celebrity association, diverting from creating genuine awareness, understanding  and reshaping the damaged view about booster necessity.
Creating an Alternate TV. Spot ad
The new advertisement, "Forward Together - Maintenance," notably diverges from the prior ad's reliance on celebrity endorsements. Instead, it prominently features everyday individuals, fostering a sense of relatability and credibility. This departure from using celebrities to endorse booster shots reframes the advertisement's intent. While the previous campaign seemed to coax or persuade audiences into getting booster shots, the new campaign tactfully avoids that overt approach.
Critiques of the former ad suggested that it lacked sincerity, portraying a corporate interest rather than a genuine concern for public health. In contrast, the new ad focuses on reshaping perceptions by highlighting booster shots as part of a preventive health maintenance routine. It aims to convince by educating and fostering a nuanced understanding rather than overtly persuading viewers. This subtle yet impactful shift emphasizes a genuine interest in public health, steering away from overt corporate persuasions seen in the earlier campaign.
Utilizing Pfizers Brand Identity and Communication style 
-these works do not belong to me-
In developing and executing the 'Forward Together' campaign, the intention was to authentically reflect the core values and visual identity of Pfizer. The campaign materials and assets align perfectly with Pfizer's ethos, leveraging the brand's passion for health and commitment to a healthier future. The color palette, imagery, and typography used in the campaign are in sync with Pfizer's established brand guidelines, effectively resonating with their mission. By incorporating imagery of healthcare professionals, volunteers, and real faces behind Pfizer's impactful work, the campaign underscores the brand's commitment to global health. However, there's a conscious decision to refrain from over-reliance on the 3D art introduced after the 2021 rebrand. This choice was made to avoid a corporate identity overshadowing the campaign's human-centric approach. The brand's voice and communication style are reflected across the materials, creating a cohesive identity that remains true to Pfizer while humanizing its image.
The objective of the 'Forward Together' campaign is rooted in reshaping public perception and rebuilding trust following the challenges posed by the COVID-19 pandemic. The campaign's strategy focuses on humanizing Pfizer's efforts and emphasizing its humanitarian impact. The development of materials, such as billboard posters, social media content, and a TV commercial, was aimed at portraying Pfizer as a collaborative partner in societal well-being rather than solely as a pharmaceutical corporation. The goal was to evoke a sense of unity and community through storytelling and compelling visuals, aiming to enhance communication and engagement strategies and ultimately foster a positive shift in public perception.
https://www.tiktok.com/@johnlegend/video/7202690167025552683

Bartee, Ben. "NFL Superstar Travis Kelce Shills the Pfizer Vax." PJ Media, 29 Sept. 2023, pjmedia.com/benbartee/2023/09/29/nfl-superstar-travis-kelce-shills-the-pfizer-vax-n1731029. Accessed 29 Oct. 2023.